Flame Cutting (Oxy Acetylene Cutting)
The Flame cutting (Oxy Acetylene Cutting) is a common method for rough machining of steel plates. Oxy Acetylene Cutting is air cutting. Traditionally, acetylene gas is used for cutting. Afterwards, propane is used. Now natural gas cutting has been appeared. Because of its rich natural gas reserves, cheap and pollution-free characteristics, flame cuttings have become the first choice for flame cuttings. Natural gas flame cutting usually adds natural gas additives to generate new cutting gas. Using this gas to cut flame can make the cutting effect better, improve the cutting efficiency and reduce the cutting cost.
the cut thickness range from 6mm to 200mm. Usually less than 20mm thickness steel plate will be using the laser, water or plasma cutting. The main reason is the flame cuttings will lead to a bigger thermal deformation area. But it's the most cost-effective method for cut the more than 20mm thickness carbon steel plate. The cut quality depends on the Oxygen purity and the operator's ability and experience. The flame cuttings is widely used in the manufacturing of steel structures and Sheet metal fabrication.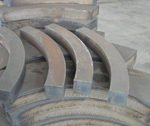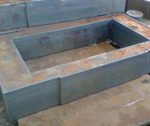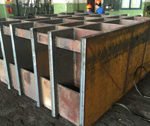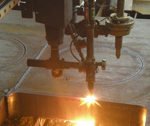 Sheet Metal Manufacturer
We can also provide saw/laser/water jet cutting, metal stamping and CNC punching service according to your requirements.
The other value-added services as follows:
1. Hole Drilling, Grinding, Machining, Riveting
2. Metal Sheet Rolling, Bending and Folding for Press Brake
3. Welding Service: SMAW, GTAW, GMAW, TIG, MIG/MAG
4. Heat Treatment
5. Surface Finishing
(1) Buffing and Polishing (Metal Mirror Polished, Brushed Metal Finishing)
(2) Sandblasting, Pickling and Phosphating
(3) Powder Coating, Anodizing, Zinc Plating, Hot Dip Galvanized, Chrome Plating and Nickel Plating
(4) Assembly