Steel Structure Fabrication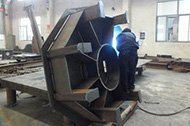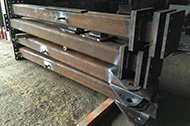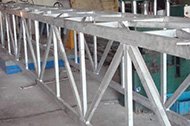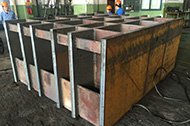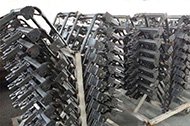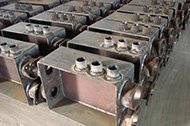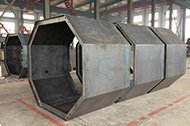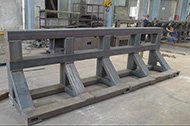 We provide custom solutions for complex designs of steel structure fabrication, and we support the small batch production. The production processes includes cutting (laser, flame, plasma, waterjet or saw cutting), bending, rolling, welding, grinding, punching, drilling, surface treatment (finishing, powder coating, hot-dip galvanizing and more) and assembly. We provide a wide range of raw materials for your product application and design. The materials of steel, stainless steel and aluminum cover almost all the dimensions you want. Usually we use Chinese grade materials as an substitute materials to reduce costs. We will convert the inches and gauges size into millimeters, and provide the chemical composition and mechanical properties of Chinese materials to you reference.
Applications of the Steel Structural Fabrication:
Equipment Base, Arches, Roof Supports, Tank Supports, Building Profiles, Trusses Parts, Canopies, Lintels, Fence & Barrier, Flanges, Hhousings, Brackets and More.
The Common Materials for Structure Metal Fabrication:
Steel, Steel Stainless, Aluminum and Copper of Sheet/Plate, Tube and Rod/Bar
The value-added service to Steel Structure Fabrication
1. Hole Drilling, Grinding, Machining, Riveting
2. Cutting, Bending, Metal Stamping and CNC Punching
3. Welding Service: SMAW, GTAW, GMAW, TIG, MIG/MAG
4. Heat Treatment
5. Surface Finishing
(1) Buffing and Polishing (Metal Mirror Polished, Brushed Metal Finishing)
(2) Sandblasting, Pickling and Phosphating
(3) Powder Coating, Anodizing, Zinc Plating, Hot Dip Galvanized, Chrome Plating and Nickel Plating
(4) Assembly
We also provide others value-added services, such as design for manufacturability, technology support, quick-turn prototyping, machining and tooling make in-house and more. We familiar with the industry and market of metal fabrication for many years of manufacturing experience. If you have a custom request for steel structure fabrication, we are gladly to offer a competitive quotation.