Sheet Metal Bending (Press Brake Bending)
Sheet Metal Bending- metal sheet, under the pressure of the upper or lower die of the bending machine, first passes the elastic deformation and then enters the plastic deformation. At the beginning of the plastic bending, the sheet is free to bend. With the pressure of the upper die or the lower die, the inner surface of the plate and the lower die V groove is gradually tightened, and the radius of curvature and the bending force arm are also at the same time. Gradually smaller, continue to pressurize until the end of the stroke, so that the upper and lower die and the plate three point close contact, at this time the completion of a V bending or U shape Bending, is commonly known as the bending.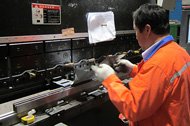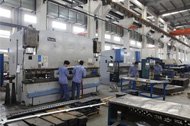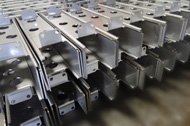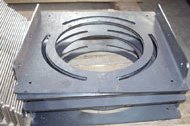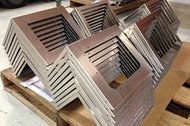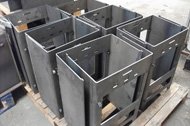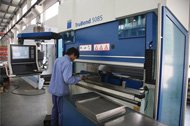 The sheet metal bending also called press brake bending, it is a process of plastic deformation of the work over an axis, creating a change in the parts' geometry, like a V-shape. U-shape, or channel shape along a straight axis in ductile materials. Bending changes the shape of the sheet metal work piece, but the volume of the work piece will remain the same. Besides creating a desired geometric form, sheet metal bending is also applied for increasing strength and stiffness to metal, to change a part's moment of inertia, and to eliminate sharp edges.
The Common Materials for Sheet Metal Bending:
Steel Sheet, Stainless Steel Sheet, Aluminum Sheet, Copper Sheet (Bronze, Brass)
If you produce part sizes less than 300mm * 300mm, and the annual demand exceeds 10,000 pieces. We recommend that you can use stamping. Even though have a early mold cost investment, but the product unit price will be save more than 30%. In addition to sheet metal bending, we can also provide cutting, rolling, welding, assembly, surface finishing and packaging service. Feel free to contact us for more details.
The other value-added service as follows:
1. Hole Drilling, Grinding, Machining, Riveting
2. Metal Sheet Cutting, Rolling, Metal Stamping and CNC Punching
3. Welding Service: SMAW, GTAW, GMAW, TIG, MIG/MAG
4. Heat Treatment
5. Surface Finishing
(1) Buffing and Polishing (Metal Mirror Polished, Brushed Metal Finishing)
(2) Sandblasting, Pickling and Phosphating
(3) Powder Coating, Anodizing, Zinc Plating, Hot Dip Galvanized, Chrome Plating and Nickel Plating
(4) Assembly
We also provide others value-added services, such as design for manufacturability, technology support, quick-turn prototyping, machining and tooling make in-house and more. Contac us now to get more information or get a custom quote.