Rotational Molding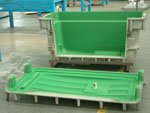 Rotational Molding is high temperature, low volume, low pressure thermoplastic forming process, it mainly
suite for producing hollow,one piece parts such as large oil or chemical tanks,kayak…
The method is to pack the liquid material in a closed mold and make it rotate around a single axis or multiple axes at a lower speed. The one that rotates around a single axis is used to produce cylindrical products, and the one that rotates around a double axis or depends on vibration.
In the production of airtight products, the material is distributed on the inner wall of the mold by gravity, and when it reaches the gel point, it stops flowing completely. The mold is then transferred to the cooling area, and the product can be obtained from the mold after it has matured or hardened through forced ventilation or water spray cooling. Then go to the next cycle
The raw material can be UV resistant,then it can ensure product to be used in outdoor.
Advantage of rotational molding
1. Design flexibility for various size and shapes
2. Variety of inserts can be placed
3. The shape of rotational mould can from small to big, simple to complex
4. The thickness and weight can be varied for extra strength requirement
5. Foam material can be filled in products to achieve thermal insulation
6. Variety of colors and surface finishes are available
7. Metal insert mould as integral part
8. UV resistance, anti-impact/corrosion /fade/static/splinter and non-toxic
9. Easy to repaired
10. Text/logo/inserts/foam/electronic tags/threaded outlets and handles can be included
11. Mold cost less than other molding methods
12. Environment friendly
Rotational Molding Services
We offer plastic molding services to oversea customer for many years.
| | |
| --- | --- |
| Product | custom design rotational molding plastic parts |
| Size | Customized Size |
| Color | Black, White, or other colors |
| OEM/ODM | Welcome |
| Material | polyethylene |
| Quality | Eco Friendly, Anti-Corrosion, Shock Proof |
| Mold Type | Rotational Molding Production |
| Application | Commercial / Industrial |
| Packaging | plastic bag & carton |
| Mold & Sample Time | 5-25 working days |
| Delivery Time | Small Orders7-10 days, Large Orders 20-35 Working Days |
Rotomolding Molding Process
step1: Cutting foam according to drawing
step2: According to the 3D drawing make foam mould by CNC machine
step3: Die casting on foam mould make original mould
step4: Drawing size lines and adding pillar for supporting and fixing
step5: CNC precision process
step6: Polishing welding surface process etc for mould
step7: Make mould frame
step8: Adding raw material PE into the mould by equality
step9: Rotating therforming by rotational molding machine
step10: Demold
Other Plastic molding Services